Route
A private transfer will bring you from the airport of Santorini to the harbour of Santorini, where a ferry to Naxos leaves around 4 pm. You therefore need to land in Santorini before 1 pm. The ferry will bring you to Naxos, the biggest among Cyclades Islands.
A bus will take you to Chalki, located in the center of the Tragea plain. Today you explore this fertile inner land of Naxos, with secular olive trees and rich vegetation. You will walk on cobblet paths to the majestic statue of an unfinished Korous from the 6th century BC. Along your way you will find the fortified hamlet of Kastro. The walk ends in Melanes, where a bus will take you back to the hotel.
Today's walk starts from Filoti, which you will reach with a brief bus ride. From this village, built at the foothills of Mt Zas, you will follow a walk leading you to the summit of this legendary mountain: on your way the cave in which according to the legend Zeus, the father of all Gods, was nursed by an eagle. After the descent those who still have energy could may decide to walk back to Filoti through Apiranthos: a wonderful walk, offering breath-taking views.
Today you will take a ferry that will take you to Santorini through Naxos: the ferry usually departs around noon and arrives 3 hours later in Santorini. Morning is free: you may visit the castle of Naxos or the archeological museum. Those who need a little relax will appreciate the sandy beach of Agior Georgios.
The arrival to Santorini by ferry is an unforgettable experience: you will be amazed by the whitewashed houses decorated by bright blue windows, perched on top of steep cliffs.
A transfer will bring you to Perissa, from where you start climbing via an old windy path. This part of Santorini is one of the very few places that exists from the devasting volcanic outburst of 1600 B.C, which according to the legend was at the origin of the myth of Atlantis. You will walk to ancient Thira, the capital of the island in Ancient and Roman times, to later walk through vineyards and picturesque villages. You will reach the village of Akrotiri through a beach of black sand.
The day will start with a brief transfer by bus to Fira, the capital of Santorini: here you will explore the narrow alleys of this whitewashed townm built on the top of the volcanic cliffs. Fira houses several museums, such as the prehistoric and archeological one, which you will be free to visit. In the afternoon you will walk along the path that connects Fira to Oia: the walk rus along wide mule-paths, and will offer great views of the lagoon. A transfer will take you from Oia to your hotel.
Today you will discover the ancient city of Akrotiri, the Greek Pompei: you will discover how, following the volcanic outburst of 1600 BC, volcanic ashes covered and preserved buildings, frescoes and ceramics, offering a precious record of how people lived in this ancient port city during Bronze Age.
A transfer will bring you from the hotel to the Santorini airport.
accommodation
7 nights in bed and breakfast basis (3 nights in Naxos, 4 nights in Santorini)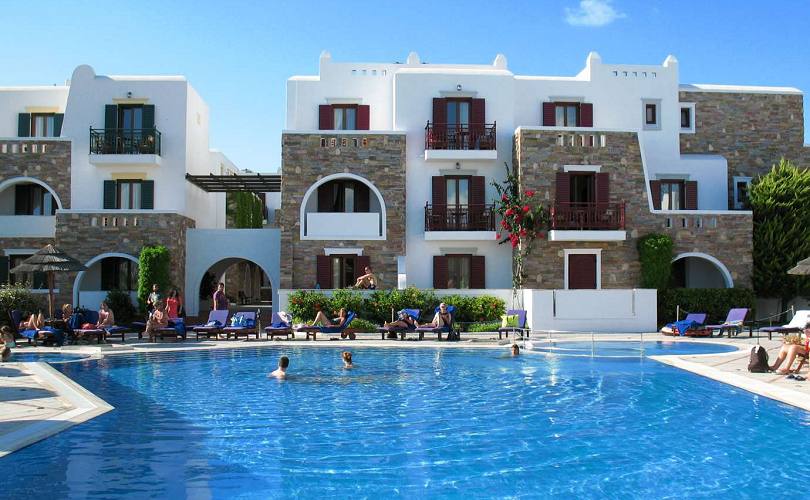 Naxos Resort Beach Hotel - Naxos
Naxos Resort Beach Hotel is located in front of the sandy beach of St. George and it has local Cycladic and Venetian architectural style. Rooms are luxurious, comfortable and well-finished with the following comforts: free Wifi, air conditioning, TV, direct line telephone, fridge. It's suggested the restaurant. Breakfast is rich and good.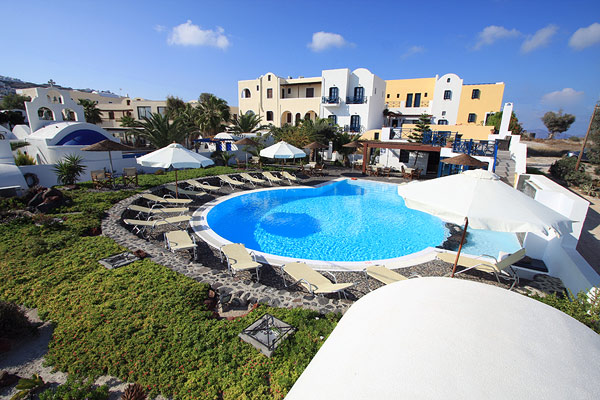 Kalimera Hotel - Santorini
Kalimera Hotel is built very close to the archaeological site of Akrotiri with view of the caldera, the volcano or the Aegean Sea. It offers accomodations like rooms or apartments on two floor with free Wifi, TV, fridge, telephone with direct line, air conditioning/heating and balcony. Breakfast is normal.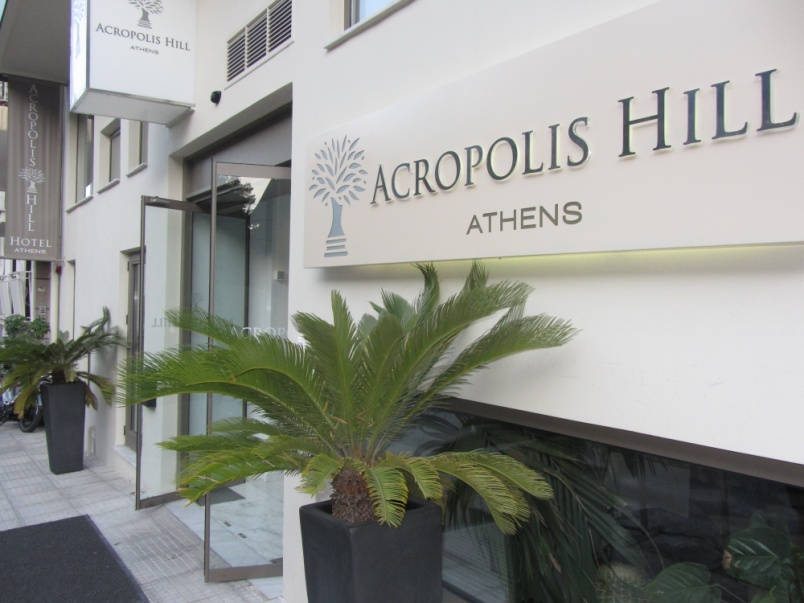 Acropolis Hill Hotel - Athens
Acropolis Hill Hotel is situated in the area around Acropolis and Athens historic center. Rooms are contemporary, well-finished, clean and comfortable, but not very spacious. Some of comforts are air conditioning/heating, free Wifi, TV, mini fridge, telephone. Breakfast is normal.
practical info

You will travel in and out from Athens airport. If your flight arrives before 14:30 hrs., you will be transferred to Piraeus port and travel on the 17:30 hrs. ferry to Naxos (duration of the ferry is app. 5,5 hrs).
If you arrive after 14:30 hrs, you will travel to Athens center by public transport or taxi, and will be transferred to Piraeus the next day in the early morning. You may also book an additional transfer from the airport to Athens with S-Cape.
Your transfer from Piraeus port to your hotel in Athens at the end of your trip is included. You will travel by public transport or taxi from Athens to the airport on your departure day.

GPS tracks are available on request.
Included
What is included:
· 7 nights in hotel with breakfast (3 nights in Naxos, 4 nights in Santorini)
· Transfer from Santorini airport to the harbor
· All the transfer included in the programme: transfer for round trips in Naxos and Santorini, transfer from Afrotiri and Perissa and from Oia and Akrotiri
· Ferry ticket
· Maps and detailed itinerary
· Luggage and health insurance
What is not included:
· Flights
· Public transport tickets
· Lunches and dinners, except where otherwise noted
· Visits and entrance fees - tips
· Anything not specified under "The price includes"
Optional Services:
These services can be added to the ones included in the base price of the tour:
· Single room supplement: €250
· Any transfer to get to the starting point or to return from the point of arrival, which can be quoted on request.