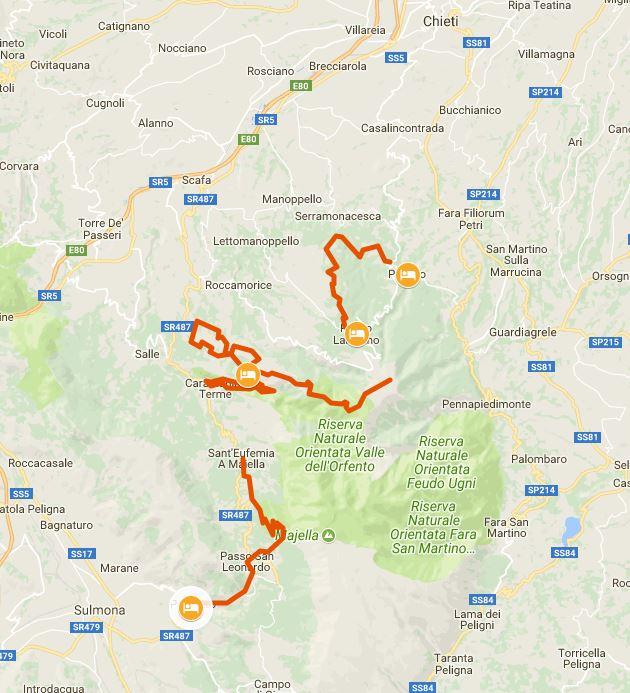 The 74.095ha Majella National Park, located in the Italian Abruzzo region, is an impressive limestone massif with over 25.500ha of wilderness; it is a little unknown area not far from Rome and the Adriatic coast suitable for nature lovers and families alike. Clear streams, mountain meadow with flocks of sheep, endless beech forests, ancient attractive villages, Romanesque monasteries and solitary hermitages fill the scenery.
In the Majella National Park you can still find wildlife that has become rare elsewhere in Europe. Otters play in the clear water while brown bears, wolves, lynx, Apennine Chamois, red deer and roe deer still wonder through their natural habitat while the Royal Eagle soars above. The Majella National Park is a unique example of mountainous wilderness in the heart of the Apennine range and consists mainly of a limestone massif with hundreds of caves, gorges and rivers and 30 peaks above 2000m. The park is home to 22% of all European flora and lies at a crossroads of climates making it the most Southern Alpine range with over 2.100 different plant species of which 140 are endemic.

The tips of Valentina:
Admire the beautiful landscape of Majella massif, through dense forests or on open level;
Explore solitary and odd place like hermitages set between mountains;
Look hard at sunset for faunal observation;
Taste local products, like legumes, cheeses, pork, extra virgin olive oil and wild spinach (òrapi).
Included
What is included:
· 6 nights in double rooms in 3* hotels, B&B and agriturismi with breakfast and 4 dinners
· Packet lunch on Day 2
· Luggage transfer
· Map of the Majella National Park
· People transfer Decontra-start of the walk
· People transfer Pretoro-Aia della Forca
· Telephone support 24 hours
· Maps and detailed itinerary
What is not included:
· Journey to the place of arrival and departure
· Lunches and dinners, except where otherwise noted
· Visits and entrance fees - tips
· possible sojourn taxes
· Anything not specified under "The price includes"
Optional Services:
These services can be added to the ones included in the base price of the tour:
· Single room supplement
· Any transfer to get to the starting point or to return from the point of arrival, which can be quoted on request.