CAMINO WALKING
Level :





period:
Apr
May
Jun
Jul
Aug
Sep
Oct
Walking St.Francis Way, from Chiusi della Verna to Città di Castello - Italy
Walking St.Francis Way, from Chiusi della Verna to Città di Castello
7 days, price from
€ 610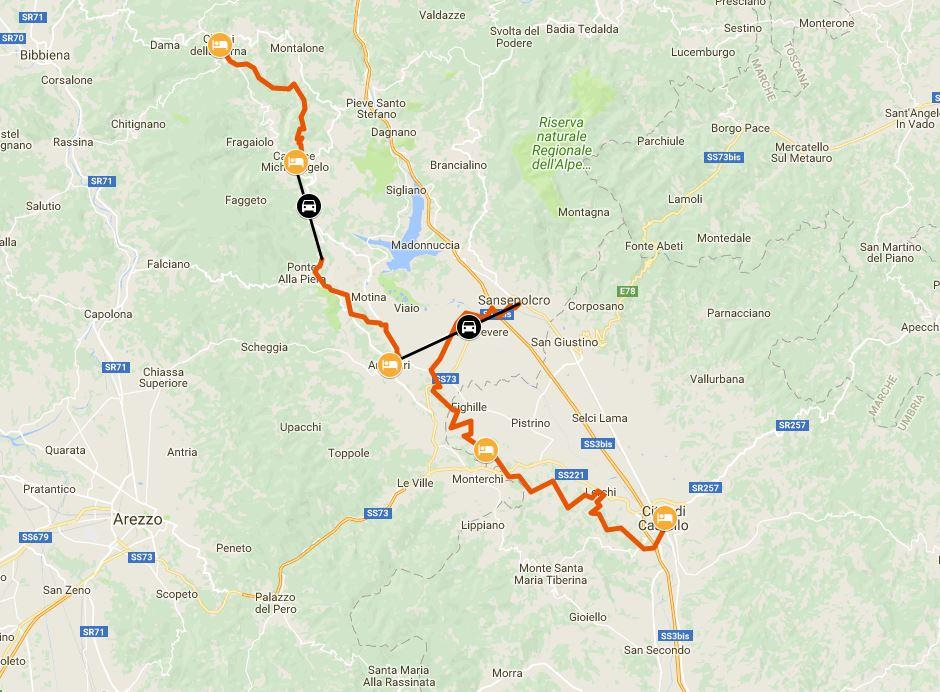 During the obscure times of the Middle Ages an enlightened man, Saint Francis of Assisi, walked along the ridges and valleys of the Apennines, looking for God's signs in nature and talking to people about peace, humility and brotherhood. His mystical figure fascinates many still today as his charisma and philosophy are respected all over the world.
On this trip you will follow the paths Saint Francis covered during his frequent pilgrimages between the area of La Verna (where he received "the stigmata"), and that of Città di Castello. Discover the traces of his passage, such as Franciscan hermitages, chapels, crosses as you walk through the typical landscape of Tuscany and Umbria; shady forests, orchards, olive groves and fields of wheat and barley.
Apart from amazing natural and religious places, along the "Franciscan path" you will visit towns and villages of great history and culture and you will have many occasions to taste the many traditional recipes from the local traditional cuisine.

The tips of Valentina:
The wild slopes of the Apennine mountains and the best-preserved forests in Italy;
Hills, country houses, cypress lanes, olive grows and all the typical elements of rural Italy;
The Sanctuary of La Verna.

The medieval towns of Anghiari, where time seems to have stopped;

Small, comfortable, family run accommodations;

Friendly people, quiet foot paths and gravel roads;
Included
What is included
· Nights in double room in **/*** hotels , B&B and agriturismi with breakfast
· luggage transportation from hotel to hotel
. Transfer Anghiari-Sansepolcro on day 5
· maps and detailed description of the itinerary
. 4 dinners
· Medical and luggage travel insurance
· 24h phone assistance
What is not included
· Transfers to the starting location and from the arriving location of the tour
· lunches and dinners, if not otherwise stated.
· visits and entrance fees - tips
· personal expense
· possible sojourn taxes
· everything that is not mentioned in the "What is included" section.
Optional Services
These services can be added to the ones included in the base price of the tour:
· Single room supplement
· Transfers to reach the starting location or to leave the arriving location of the tour, which will be quoted on request.