Both long distance walks, both pilgrim trails heading to places of worship, both offering the alternative of sleeping in hotels and B&Bs or simple hostels and parishes, both rewarding the traveller with a final certificate of completion of the pilgrimage and a credential on which to collect stamps from the villages along the way: Via Francigena and Camino de Santiago have undoubtedly much in common, but is there any difference between these two beloved Caminos?
You may have heard or both and be in doubt as to which to choose for your first long distance walk; you may have walked the Camino de Santiago and wondered if Via Francigena would offer the same experience, or something different from what you experienced along the Camino.
To help you with your final decision, we have listed the main differences between Via Francigena and Camino de Santiago, addressing essential topics such as food and accommodation, local support and budgeting. Please note that we will mainly refer to the Italian section of Via Francigena.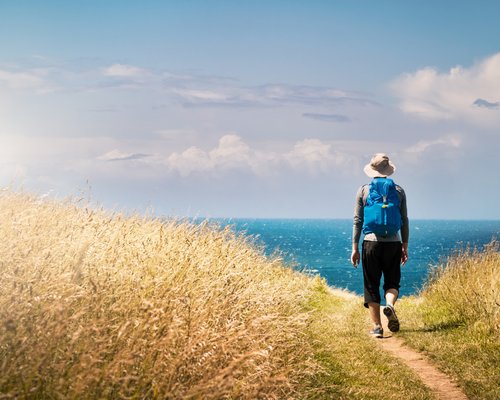 Landscape and beauty
If the (not so simple) act of walking is what you are mostly interested in, a change of landscape may not be a priority. This said, the Italian section of Via Francigena offers an ever-changing scenario, ranging from the Italian Alps to the "tagliate" - typical Etruscan roads – of Latium, from the rice fields and plains of Lombardy to the lunar hills of Val d'Orcia, from tiny hilltop hamlets to gorgeous, well-known art cities. The landscape changes considerably in the span of just one week, with daily peaks of awe-inspiring beauty.
The landscape of the Camino tends to be a bit more homogeneous, especially in some specific sections such as the Mesetas.
Both countries have plenty of cultural and artistic highlights along the way - and sections in which there is not much to be seen, visited or explored. Via Francigena boasts a vast array of cultural influences in its 1000 kilometers of the Italian section - suffice it to think that the official itinerary passes through Aosta, Pavia, Lucca, San GImignano, Siena, Viterbo and Rome, just to mention some of the stages.
Food
The same applies for food: Italian cuisine is so varied that almost every day bears new local specialties to be tasted. Potentially, one can taste something different with every meal – a journey inside the journey among the immense range of Italian flavors. Spanish food is really tasty as well, although maybe less varied.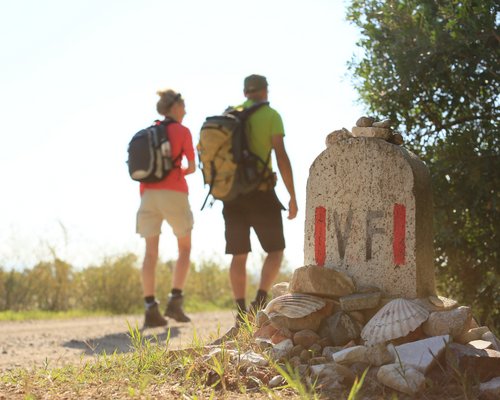 Amount of people on the way
The popularity of Camino the Santiago is such that every stage is walked by MANY people: on some sections – especially the final stages of the French Camino – it may be difficult to find the tranquillity and space you may dream of for your long-awaited pilgrimage. Via Francigena is getting more popular, but the amount of people on the path is still considerably smaller: you may find yourself walking for a whole stage without meeting a single person on your way.
It all depends on what you are expecting from your journey: if you are looking for a sense of community and possibly new friends to make on the way, then you should head to Santiago – or choose a group tour on Via Francigena. If you'd rather focus on your thoughts and are hoping to meditate and ponder, then Via Francigena may be the better option!
Variety of Accommodation
The type and availability of accommodation on the way varies considerably: although both Caminos offer pilgrim hostels and touristic accommodation, there is no doubt that Santiago is more appealing to spontaneous travellers.
The hostels on Via Francigena are fewer and can host a smaller amount of people; there are often several kilometers between one hostel and the other – usually a full stage, 25 or 30 kilometers, with more options in the most popular sections of the route, such as the Tuscany.
During high season, even hostels should be booked – sometimes well in advance – to have a spot guaranteed. They tend to be less organised than the hospitales in Santiago: for example they do not always offer the luggage transfer, which needs to be arranged and paid in advance.
Touristic accommodation is available, but it should be booked.
Budgeting
Walkers who have been on Santiago and then on Via Francigena often complain of the Italian prices: Pilgrim accommodation along the Camino de Santiago is notably cheaper (5/6 Euros) while in Italy you'll rarely find a bed for less than 10 Euros.
Laws are different, and so is the number of guests that hostels are allowed to welcome per night. Nevertheless, one should be ready to spend more for the Italian Camino.
Even touristic accommodation tends to be more expensive in Italy.
Food is also cheaper in Spain – mainly due to the popularity of Pilgrim Menus, cheap and hearty (although not very varied!). Again – it all depends on your priorities!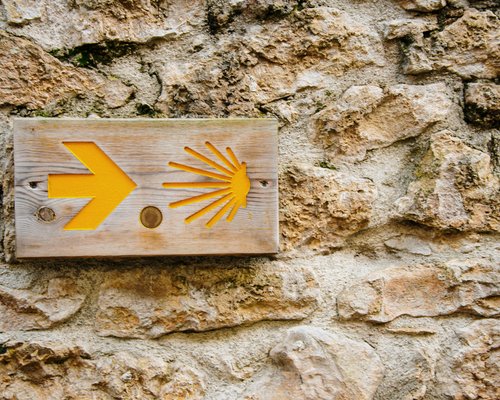 Signage
Both Caminos are well marked, with APPS, Maps and GPS Tracks available for every stage. The signage on Camino de Santiago is checked more regularly and sometimes easier to be seen (the famous yellow arrow stands out on every surface!) and signage on Via Francigena may be less present on certain sections of the route – but the red and white stickers are a good, reliable reference along the way.