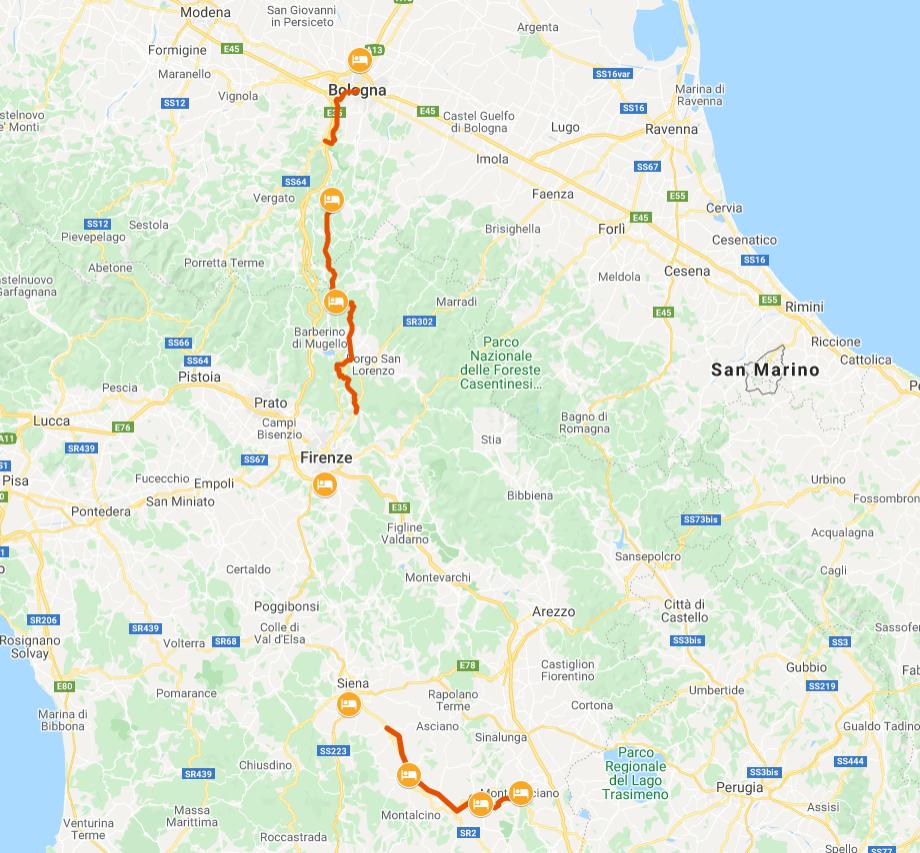 In contrast to the anti-itinerant rhetoric of the Church in medieval times, the last movements of St. Dominic between Rome and Bologna (1218-1221) testify to the ferment and initiative of the Saint, divided between official assignments received from the Pope and the desire to carry out a great project based on study, preaching and evangelical poverty.
The choice to retrace the Saint's last journeys during the Jubilee does not arise from an apologetic idea, but rather from the desire to provide a renowned opportunity to reflect on the life and legacy of the founder of the Order of preaching friars.
Even if shorter than the Saint's lengthy journeys (born in Caleruega in Castile, he moved incessantly between Spain, France and Italy), these trips offer the chance to live the spiritual and symbolic experience that Dominic himself lived in his peregrinations ("every time you travel, you spiritually retrace the journey of existence").

SloWays tips:
The stunning landscape of the Orcia Valley, south of Siena, that inspire at every footstep
Hills, country houses, rural hamlets and hidden monasteries, genuine food and great wines
Bologna and the Basilica of San Domenico
The medieval towns along the way, UNESCO Pienza, Siena & the "Palio", Buonconvento… where time seems to have stopped and the capital of Renaissance: Firenze!
Small, comfortable, family run accommodations
Included
What is included
· Nights in double room in **/*** hotels , B&B and agriturismi with breakfast
. 1 dinner
· luggage transportation from hotel to hotel
. transfer from San Piero a Sieve to Monte di Fo, transfer from Monzuno to Sasso Marconi
· maps and detailed description of the itinerary, app
. Pilgrim Passport
· Medical and luggage travel insurance
· 24h phone assistance
What is not included
. Transfers to the starting location and from the arriving location of the tour
· lunches and dinners, if not otherwise stated.
· visits and entrance fees - tips
· personal expense
· possible sojourn taxes
· everything that is not mentioned in the "What is included" section.
Optional Services
These services can be added to the ones included in the base price of the tour:
. Single room supplement
. Half Board supplement
· Transfers to reach the starting location or to leave the arriving location of the tour, which will be quoted on request.