NEW TRIPS WALKING
Level :





period:
Apr
May
Jun
Jul
Aug
Sep
Oct

Southern Tuscany: Argentario and Giglio Island - Italy
Southern Tuscany: Argentario and Giglio Island
7 days, price from
€ 494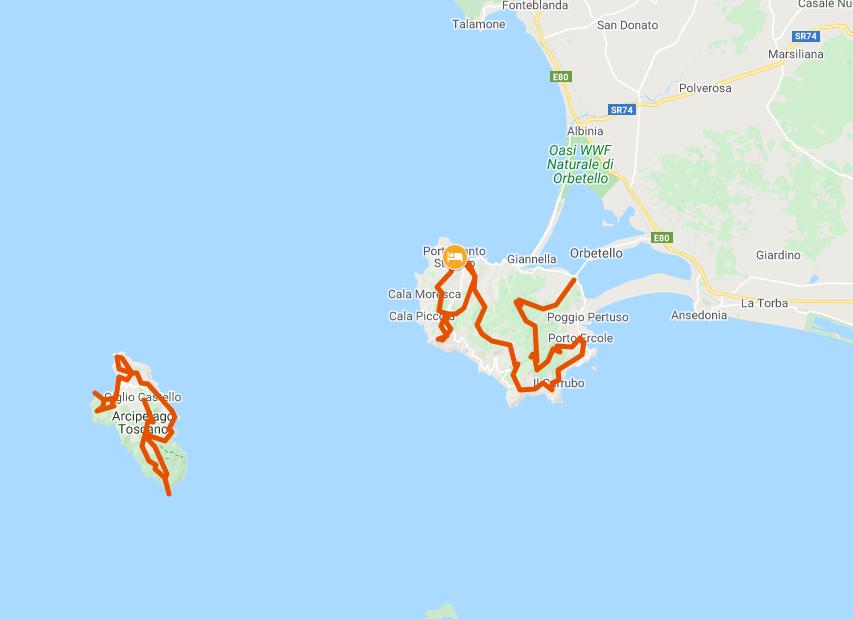 Isola del Giglio, in Italian it means "lily" island but originates its name from "Aegilium", in latin "goat island". Only 10 miles from Argentario promontory, it's a gem in the Tyrrhenian sea. It is second in size among the islands of the Tuscan Archipelago and counts around 1500 inhabitants mainly living in Giglio Porto and Castello.
The island of Giglio is known above all for its natural beauties: the crystal-clear sea, with rich and fishy seabed, are the setting for a 90% untouched nature where the low Mediterranean vegetation still reigns with its colors and perfumes. Beautiful sandy beaches and isolated coves, ancient paths immersed in a rich nature, breathtaking views, a picturesque port and the charming medieval village of Giglio Castello make of Giglio island a treasure to be discovered.
On the other side the Monte Argentario promontory was once an island just a short stretch out into the Tyrrhenian Sea off the Tuscan coastline. Eventually, due to sea currents, two sandbars formed joining the island to the mainland. The town of Orbetello sits between them, also attached to the mainland by an artificial dam.
Included
What is included
· Nights in double room in **/ *** hotels , B&B and agriturismi with breakfast
· luggage transportation from hotel to hotel
· maps and detailed description of the itinerary
· Medical and luggage travel insurance
· 24h phone assistance
What is not included
. Transfers to the starting location and from the arriving location of the tour
· lunches and dinners, if not otherwise stated.
· visits and entrance fees - tips
· personal expense
· possible sojourn taxes
· everything that is not mentioned in the "What is included" section.
Optional Services
These services can be added to the ones included in the base price of the tour:
. Single room supplement
. Half Board supplement
· Transfers to reach the starting location or to leave the arriving location of the tour, which will be quoted on request.